Sustainability
Because we look and think ahead
As a production and commercial trading company, bellissa has a special responsibility – for its products and also of course for our environment. For us, sustainability therefore means not just developing guaranteed durable solutions, but also working and living in harmony with nature.
Resource-friendly production

At bellissa, wherever possible, we use materials that can be recycled or regrown and are biologically degradable. These include wood and bamboo, but also recyclable steel and plastic. We take care to reduce waste as much as possible by using the appropriate packaging and products. Also, with our high level of in-house production, we contribute to minimising the emissions created by transport and storage.
Creating space for life

bellissa supports the creation of biological micro-systems with its composting solutions. We also create living spaces for animals and plants, for example by managing a wildflower meadow in Bodnegg-Kofeld. We initiated this project in summer 2021 together with the Bodnegg enterprises STERK Group and HAS Technologie GmbH.
On an area of five hectares, there is food here for insects and other wild animals and ground-breeding birds such as skylarks are happy to find the right nesting places for their species. And when in late summer sunflowers, sweet clover, fennel, wild carrot and knapweed have finished flowering, these are mown and chopped to form a completely naturally grown biomass and used by a biogas plant operator.
Bodnegg enterprises are protecting species diversity

Wild flower meadow covering an area the size of seven football pitches
In Bodnegg-Kofeld everything was buzzing and humming. Three Bodnegg enterprises are the sponsors. A wildflower meadow was created on an area of five hectares, providing food for insects and wild animals and living space for ground-breeding birds such as the skylark.
But that wasn't enough: once such plants as sunflowers, sweet clover, fennel, wild carrot and knapweed had finished flowering in late summer, these were handed over as mown and chopped ecological biomass to a biogas operator. The two managing directors, Oliver Kühn from bellissa HAAS GmbH and Hans-Peter Blum from HAS Technologie GmbH, didn't take long to agree when the agricultural operator Klaus Sterk knocked on the door with his idea for this project. Also acting as the managing director of the STERK Group, he had already been working on the project for the biogas wildflower meadow for months.
Originally, the idea of a wildflower meadow arose with a cooperative project, consisting of the AG Wildpflanzen-Biogas, the elobau Foundation and the Landschaftserhaltungsverband (landscape conservation society) for the district of Ravensburg. Biodiversity manager Moritz Ott from the Landschaftserhaltungsverband is delighted that these three Bodnegg companies have now taken the matter in hand independently themselves: "This is exactly the aim of our biodiversity projects: that they should be taken over and supported by the general public!"
Everything is growing and thriving on an area about the size of seven football pitches.
The colourful landscape is not just pleasing for insects, but also for people.






Text and photo: Katharina Stohr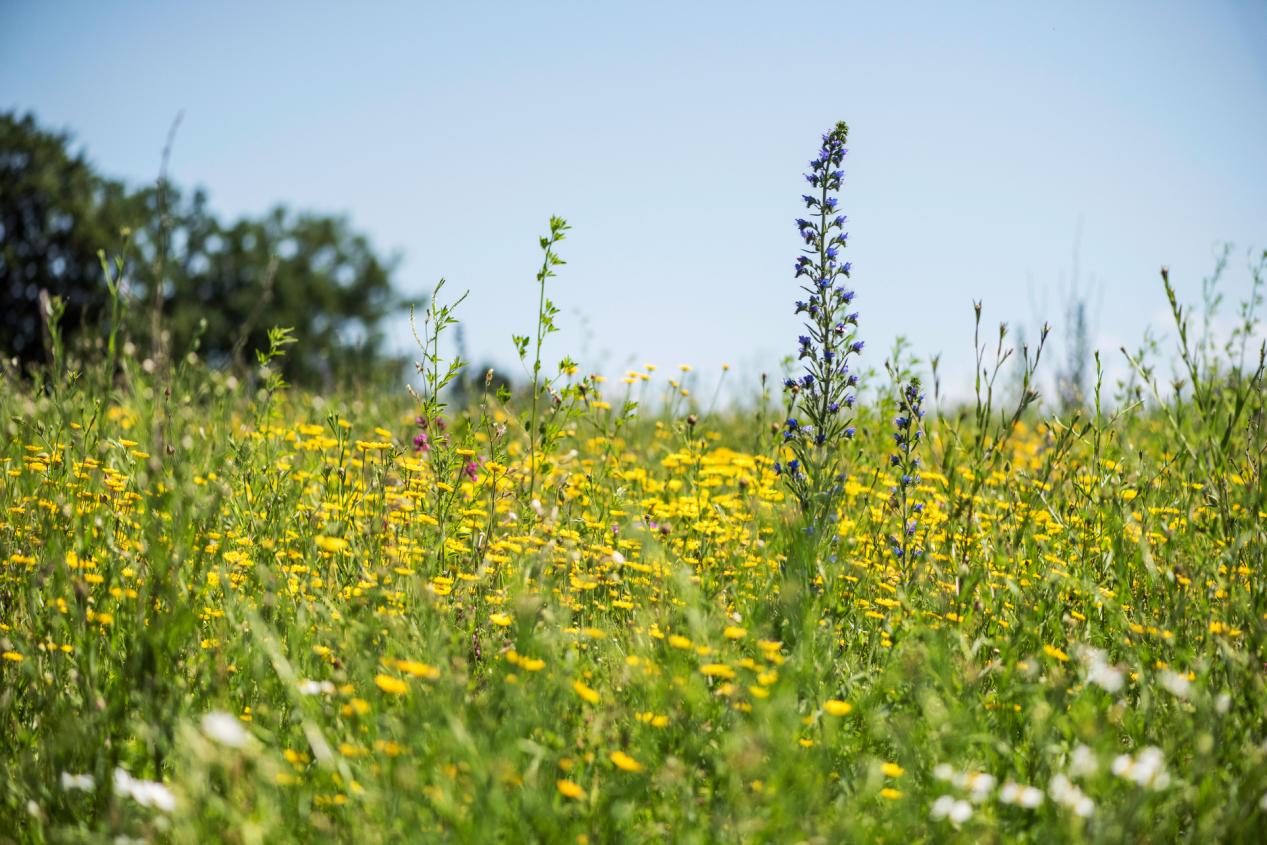 Climate neutral company

We are aware of our special responsibility towards future generations. For this reason, we have offset the greenhouse gas emissions caused by our company by acquiring a total of 3,182 certificates. With these certificates, we are supporting the VCS Reforesting Project in Uruguay, certified under the authority of the Verified Carbon Standard.
We have been awarded the status of a "Climate Neutral Company" for the compensation of our greenhouse gases. This makes bellissa one of the first companies in the industry to voluntarily compensate for its emissions according to the Clean Development Mechanism.